Tesseract Album
This is the Tesseract album. Forty minutes of rockin' toons, weird soundscapes, and pompous suites. Quality musical entertainment for the entire family.
Songs:
Entrance
Heisenberg's Daughter
Cast of Thousands, including

Entrance
The Cast
The Vitamin Mine
The Spinach

Allegro Assai

(Bach Violin concerto in A minor, 3rd movement)

Rice
Cymbal Dance
Vantage Point Instrumental
Reviews
"Tesseract are skilled and eagerly experimental musicians who managed to grab my interest in them right at the very first listen. They're full of that 70s prog passion that enables them to dig out classical influences and blend them with their own flavour. Outshines."
"Don Tillman's five piece debut is a merger of the soaring intricacies of Kansas with some aspects of fusion (Jean Luc Ponty comes to mind). Don has an impressive array of keyboards; he's adept at switching off between Mellotron and synth to organ, creating a healthy interplay with noted violinist Karen Bentley."
"The stand out piece is Allegro Assai, an arrangement of a Bach violin concerto which benefits from a strong adaptation without losing the delicacy of the original score."
"Joining the ranks of ever more new American prog bands are Tesseract from the Bay Area. Led by keys man, vocalist and guitarist Don Tillman, this quintet serves up a debut brimming with a variety of sounds and styles, ranging from soundscapes to jazzy instrumentals to straight ahead symph-prog. Most of the song writing is fairly linear with the emphasis on the playing. Standing out in the mix is the wonderful violin work of accomplished classical musician Karen Bentley (who guested on the last Camel release) who brings a strong Kansas element to the collection."
"A very promising debut from a group of talented musicians."
The Band
The Tesseract album was recorded between October 1996 and January 1997 and released in April 1997. The musicians for this were, left to right: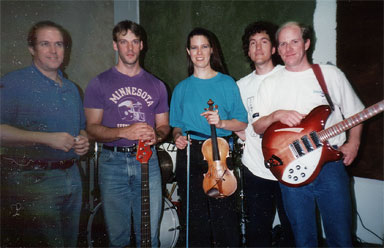 | | |
| --- | --- |
| Julius Smith | Physical modeling synthesizer, keyboards, acoustic guitar |
| Dave Berners | Bass |
| Karen Bentley | Violin |
| Josh Schroeter | Drums |
| Don Tillman | 6- and 12-string guitars, keyboards, vocals, cymbals |
Produced and engineered by Don Tillman. No sequencing, no samplers, no MIDI.
Where To Get It
Where can I get a copy mailorder?
Kinesis CD 1430 Wisp Court, Hanover, Maryland 21076 USA
phone/fax: 410 551-8081
The Laser's Edge PO Box 2450, Cherry Hill, New Jersey 08034 USA
phone: 856 751-6444
M&M Music P.O. Box 63, Ashland, Massachusetts 01721 USA
phone: 508 881-6737
Of Sound Mind 1361 Sweetbriar Lane, Bel Air, Maryland 21014 USA
phone: 410 893-9048
Syn-Phonic P.O. Box 2034, La Habra, CA 90632 USA
phone: 562 947-1576
ZNR Records PO Box 58040, Louisville, Kentucky 40268 USA
phone: 502 933-7078
How about Japan?
The Garden Shed
3A DAIICHI-SHIDA-BLDG 3F
7-16-15, NISHI-SHINJUKU
SHINJUKU-KU, Tokyo 160-0023 Japan

Or you can send a check for $12.00 payable to Don Tillman to:
Tesseract
P.O.Box 61
Palo Alto, California USA 94302
and we'll get one to you right away.