Another Chroma project of mine is a pedalboard. The Chroma comes with a cumbersome dual foot pedal unit for sustain and sustenuto, a patch-switching stomp switch, a controller pedal (typically for modulation control), and optionally a second controller pedal (typically for volume). The problem is that these pedals get tangled and wander all over the floor in the heat of playing and your foot can never find them when it has to. Also the leaf switches in the dual foot pedal seem to have a limited life expectancy.
Don's Chroma Pedalboard. I tried to get just enough glare in this photo to make the Plexiglas visible.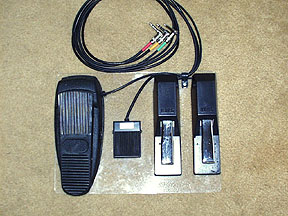 The new pedalboard is a 12 x 16 inch, 1/4-inch thick Plexiglas sheet on which mounted, left to right, the original controller pedal, the original patch-switching stomp switch, and two Korg DS-1 sustain pedals. All this can mount securely with screws coming up from underneath the Plexiglas. Little rubber feet are added on the bottom to hold the unit securely in place as well as keep the screws from scratching the floor.
The Plexiglas is clear, so the setup appears to take up less room.
Rear view.
The Korg DS-1 seems to be the sustain pedal with the best feel, noticeably better than the original Chroma pedal.
I replaced the 1/4-inch plugs with right angle Switchcraft units for better reliability and a neater fit.
And one more: The best stand I've found for the Chroma is the Quik-Lok WS-550. Solid, robust, folds down compact and quick.