BayProg.org
Welcome to BayProg, a web site of resources for San Francisco Bay Area progressive rock musicians and fans.
---
Update: Paul Dresher Ensemble, Amy X. Neuberg, Australian Pink Floyd, Tempest, Avalon Rising, Manring/Oster/Weingarten Torn/Manring/Amendola Wishbone Ash, House of Floyd
Barry Cleveland tells us that his music can now be downloaded for free. How cool is that?
Aaaand, BayProg is on Facebook. (Although, I try to avoid Facebook these days.)
---
New Albums
New albums released by Bay Area progressive rock bands over the last year. Wow, that's a lot.
Jack O' The Clock
Witness

Robert Berry's 3.2
The Rules Have Changed

Emily Bezar
Out of the Moment

Metaphor
The Pearl

ScienceNV
Prester John Vol 2

Cash Pony
Roughhousing

Cash Pony
Blue Rondo

Luminous Newts
Songs From a
Local Universe

Jason Rubenstein
Four Points of Focus
Jack O' The Clock
Repetitions II

Moetar
Final Four

Grayceon
Grayceon IV

Season of the Crow
Let it Fly

Spirits Burning
Alien Heat

Sit Kitty Sit
Tectonic

Carl Weingarten
Escapesilence and
Local Journeys

Carl Weingarten
This is Where
I Found You

Nels Cline 4
Currents, Constellations

The Monks of Doom
The Bronte Pin

ScienceNV
The Quest for
Prester John

Tempest
Thirty Little Turns
---
Do see the latest Ken Burns documentary film: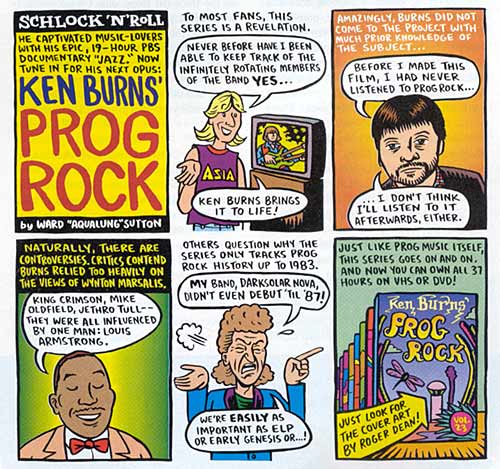 ---
The BayProg CD

The BayProg compilation CD can be found in the Spring 2002 issue of Exposé Magazine. It's called BayProg -- Progressive Rock from the San Francisco Bay Area, and features contributions from Michael P. Dawson, Gravity Tree, Metaphor, Mind Furniture, Monocaine, Amy X Neuburg & Men, New Sun, Puppet Show, Sleepytime Gorilla Museum, Spirits Burning, Tesseract and Trap.
---
What is this BayProg?
BayProg is the original regional progressive rock web site, first appearing in early 1999.
The goals of BayProg are, roughly:
To serve the needs of musicians who play in local progressive rock bands. As a musician I want to know what other bands are doing, maybe pair up with another band for a gig, find musicians for my band, keep track of venues, and keep track of places to advertise gigs.
To serve the community of local progressive rock music fans by promoting concerts, finding record stores that carry prog titles, reporting local happenings, etc.
Provide an email list as a forum for announcements and discussions.
Provide helpful information for touring bands interested in coming to the area.
Provide an alternative to the standard forms of musical promotion (FM radio, for instance) which appear to be increasingly uninterested in any type of serious music.
To support side projects. One example, Malcolm Smith (of Metaphor) has put together the BayProg sampler CD featuring 12 San Francisco Bay area bands.
Local pride; the San Francisco Bay area is large and culturally rich, and we love living here. It's the fifth largest metropolitan area in the U.S. and includes three major cities and over 7 million people. (See Table 3 of US Census 2000: Ranking tables for Metropolitan Areas for some fascinating details.)
Also, there are a number of progressive rock fans who are pessimistic, or even downright gloomy, about the future of the genre and I want to prove them wrong (you know who you are).
The BayProg web site has evolved to a pretty hefty size; it's now about 25 pages worth of good stuff. And the BayProg email list has a little over 150 members.
I want to make BayProg as good as it can be, so please send me any news, updates, additions, ideas or corrections.
-- Don, don@till.com